If you are building, remodeling, or looking to add a fixture to any space, you want to be sure of a few things. We at Priority Lighting have put together a few tips and suggestions to help you along the way.
What Size Fixture Do I Need: Many lighting professionals use a formula for calculating and selecting the proper size fixture for each room. It's pretty simple: Measure the length and width of your room in feet (round up) and add them together and substitute total feet into inches. ie 15 feet Long by 25 feet wide would = 40' > 40". The suitable fixture size would be 40".
Brightness: Sockets and wattage, what's that? We hear this all the time… Once you select the appropriate dimensions of your fixture, you need to ensure it will be able to sufficiently light up the room. If you have a large fixture and isn't bright, you are simply not utilizing all aspects of the fixture. To figure out the wattage necessary, multiple the width and length of the room and times it by 1.5. ie 15' width by 25' length = 375 X 1.5 = 562 Watts needed to light up the room. Or 10 sockets that accommodate 60W incandescent bulb = 600 watts. You can always use a dimmer to control the light up or down. Again, you can use LED with most types, but can be cumbersome to select an appealing lamp that is both functional with dimming, and looks "traditional". (Photo Below: Priority Lighting)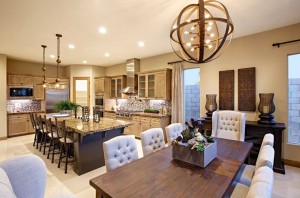 Dining room: Diameter of the fixture should be 6" to 12" smaller than the table, with the bottom of the fixture hanging 30" to 36" above the table – Furthermore, if the ceiling heights are above 10', look into a multi-tier fixture to help fill the gap between the ceiling and top of the fixture. (Photo Below: Golden Lighting)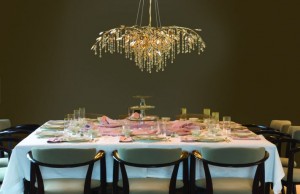 Hallways: The purpose of this fixture is to not only for aesthetics, but to provide sufficient light from room-to-room. Ensuring the use of 1, 2 or 3 sockets equaling, 120W (Incandescent), 40W CFL, or 25W (LED) should suffice. (Photo Below: Priority Lighting)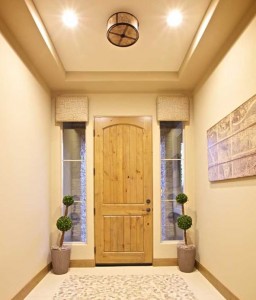 Bathroom and Vanity: This area is often overlooked for most home owners and hoteliers. Nowadays the bathrooms can be a retreat or area for relaxing. Even now it is used for "getting ready" and for most women, when applying makeup, they don't want to see the synthetic large circles under their eyes when getting ready – In lighting, this term is known as the "shadow effect." To help reduce the shadow effect, it is best to select a light that projects outward rather than downward. You can achieve this by using lit mirrors, "race track" vanity lights, or two single light covered fixtures on either side of the mirror. (Photo Below: Iberlamp – Shade Covered)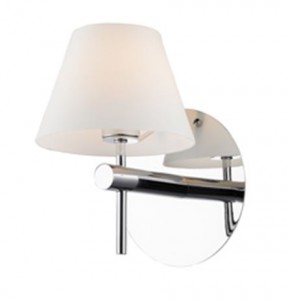 Chandeliers have been traditionally only been used in dining rooms, but now are found in almost every room in the house: Master Bedroom and Bath, Foyer, Living Rooms thus adding esthetics and value to your dwelling and space. Now with the added benefit of energy efficient types of LED, these fixtures are also considered to be "efficient" lighting sources. Make sure that you do your research on selecting the correct types of bulbs and dimmers as many are not compatible with one another. To eliminate shadows and dark spots in vaulted ceiling areas, it is suggested to use a fixture (chandelier or pendant multi-point pendant) that can be adjusted to the desired height. Don't forget, you want to cast light both downwards and upwards. Pendant lights that are strung to close together can also create shadows. (Photo Below: Troy Lighting)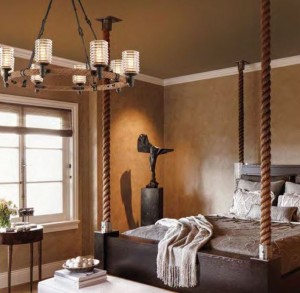 Accent Lighting is ideal for enhancing focal points to any space. It is recommended that you use small apertures (2"-4" cans, track lights, and wall mounted fixtures) that are brighter than the general lighting used. You can use a "spot beam" angle to achieve the effect. (photo Below: 4" Gimble Trim)
Cabinet Lighting can provide both accent and task type lighting. In many cases you can utilize both the upper and lower cabinets. For a cool affect, use a "puck light" for the below, creating a spot affect, and a "linear" LED or fluorescent for above, which will create a nice ambient light. Don't forget, LEDs are dimmable, but you need to make sure you have the correct components. (Photo Below: LED Bar)

Kitchen: For many, this is the gathering spots for hang-outs, parties, or your inner chef. Be sure to select not only an ethically pleasing fixture, but also functional. We often see multiple pendants as well as fabric drums. For pendants, these should be hung 24" to 30" above the island or breakfast bar. (Photo Below: Priority Lighting)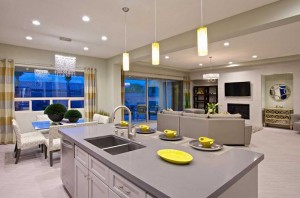 Priority Lighting is here to help not only supply you with a fixture, but also real information that is useful in making sure you select the correct type of fixture that works for you and your space. Did you know we carry 1000's of lighting fixtures? Due to the vast majority of fixtures carried, we simply have not been able to add all of them to our online shopping cart. Please feel free to contact one of our knowledgeable staff and we will be glad to send you an electronic or hard copy catalog with one of our many manufactures. Thanks for reading!
Priority Lighting
sales@prioritylighting.com
800-709-1119