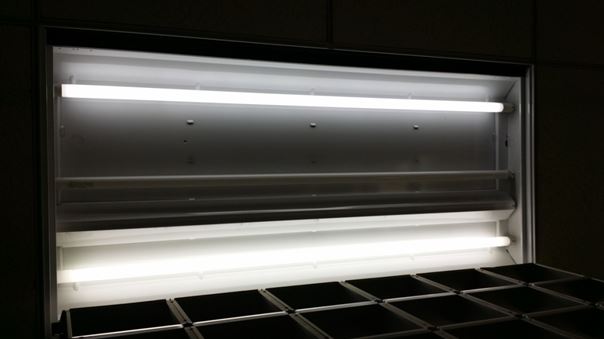 Many people and facilities across the country are undergoing or have at least thought about retrofitting to an LED lighting system. Due to the phase out of fluorescent T12 magnetic ballasts, there has been much debate as to which light source to select. Even facilities currently using newer F32 T8's are swapping out to LED. Many questions include: What is my ROI, what is the easiest to install, which option will last the longest, which light will have the best energy-efficiency.
There are plenty of options on the market, including High CRI T8, Reduced Wattage T8, T5, Self driven LED (existing ballasts must be removed), LED hardwire strips, and new LED tubes that install directly into the fixture with no rewiring needed. These "instant fit" LED options power up from the existing electric (rapid or instant start) T8 ballasts. Just swap the tube and go! You will see immediate benefits which include: up to 46% energy savings (17.5W VS 32W), no flicker or strobe, higher CRI (which gives you a crisper light source – some people refer to it as "eliminates the fog" from traditional fluorescent), a brighter fixture, and of course a longer lasting light bulb. These tubes have a frosted lens to help eliminate any glare and although the lumens are 1900, LEDs are a direct light source VS fluorescent tubes which are omni-directional (light reflects 360 degrees), hits the reflector, and bounces downward – In turn, losing its punch.
Check out some of the photos above to compare a High CRI, reduced wattage T8 to the new "instant fit" LEDs. At a mounting height of 10' we measured an increase of 20% on the lumen/lux reader and immediately noticed a brighter, crisper feel to the room.
As we are currently updating our shopping cart, these items are not available for sale online. However, please feel free to call or email us for your free energy analysis or estimate.
Priority Lighting
800-709-1119
sales@prioritylighting.com